According to the
DoJ
and court documents,
from approximately 2008 through 2017, Matthew D. Adams, of Grosse Point Park, owned a property management company, MDA Property Services. Adams sold illegal narcotics to the president of Company A, who paid for the drugs using Company A's funds. The buyer paid Adams with checks made out to MDA Property Services, and other entities Adams owned, so that they would appear to be legitimate payments for purported services rendered by Adams.
From 2013 Through 2017, The Buyer Paid Adams
More Than $10 Million For Illegal Narcotics.



Adams Deposited Some Of The Checks Into His
Personal And Business Bank Accounts, And
Cashed The Remainder, Totaling Approximately
$5.3 Million, At A Local Liquor Store.


For tax years 2013 through 2016, Adams caused his tax return preparer to prepare false business and individual tax returns by providing the return preparer solely business bank records, knowing that they did not reflect all of the illicit proceeds. In 2017 and 2018, during an audit of Adams's business and individual tax returns, Adams falsely told the IRS that all income his business received was deposited into business bank accounts and that 90% percent of the funds MDA Property Services received from Company A through the buyer was for legitimate work, whereas Adams knew only three percent was, in fact, business-related.
During the course of his criminal conduct, Adams withdrew more than $1 million in cash of his illegal narcotics proceeds from business bank accounts and also used funds to acquire real estate. In addition, he spent over $1.25 million on private flights, golfing, jewelry, gambling, court-ordered child support, hotel stays and to purchase a firearm. Adams also bought a Cadillac Escalade, a Hummer and multiple classic cars.
Adams is scheduled to be sentenced on June 21, 2023 and faces a maximum penalty of three (3) years in prison for obstructing the IRS and ten (10) years in prison for money laundering. He also faces a period of supervised release, restitution, and monetary penalties. A federal district court judge will determine any sentence after considering the U.S. Sentencing Guidelines and other statutory factors.
Thinking Not Paying Your Taxes?
You Better Thank Again, if You Like Your Freedom!
Contact the Tax Lawyers at
Marini & Associates, P.A.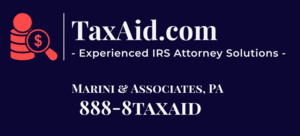 for a FREE Tax HELP Contact Us at:
www.TaxAid.com or www.OVDPLaw.com
or Toll Free at 888-8TaxAid (888-882-9243)